Quisque a commodo lectus. Nunc vel dolor sed libero venenatis egestas. Cras non volutpat enim. Cras molestie purus id lorem sodales, in facilisis erat tristique. Aliquam luctus orci aliquet augue eleifend.

Steve Kowalsky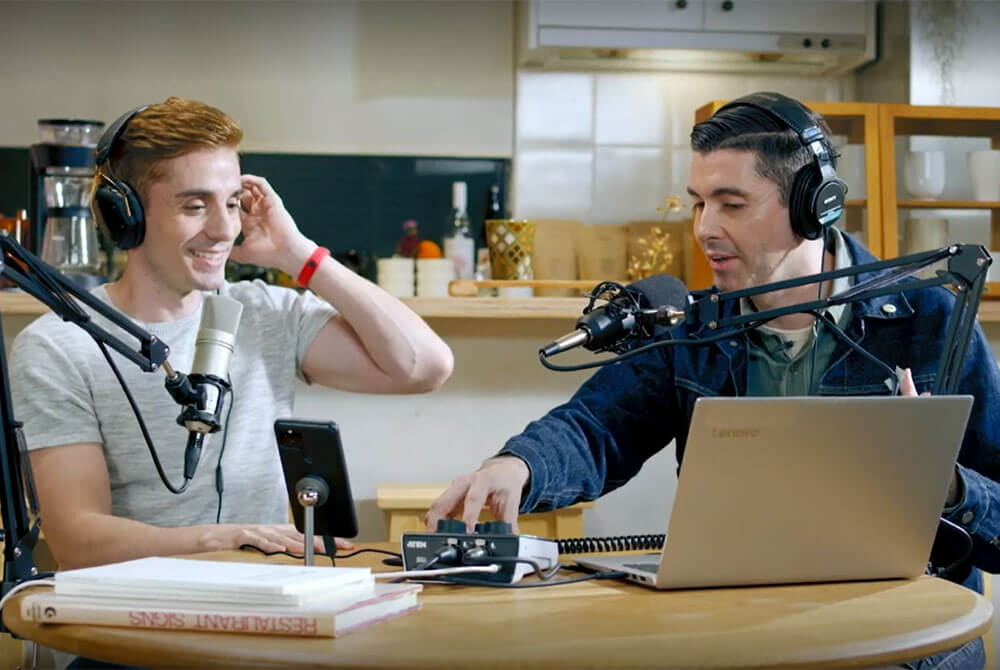 Podcasting is more popular than ever, audience engagement is growing, and so is ad spending. In fact, the number of global podcast listeners is projected by Statista to grow to 160 million by 2023 in the US alone. More popularity means listeners have higher expectations for audio quality, but creating professional podcasts poses some problems too. Thankfully, there are now easy-to-use audio mixers available that can help.
Some of the most common challenges that beginning podcasters, or experienced ones who want to improve their podcast quality, face include:
High-quality audio is hard to record
Most audio mixers are difficult to use and expensive
Let's take a closer look at these issues and how the right audio mixer can help:
1. Getting a good sound is difficult, but AI can help
As podcasting has gained in popularity, a lot of the tech around it, from recording software to hosting services and more, has improved. But getting a high-quality recording experience with many microphones is still difficult.
You're probably familiar with how smartphone camera and social media apps use AI to help enhance images by removing imperfections. A device such as the ATEN MicLIVE works similarly with its Smart-EQ AI function. It uses acoustic enhancement models to solve common recording issues and optimize the voice recording experience. This leads us into our next point.
Smart-EQ is AI-optimized and helps improve your sound recording with enhanced acoustic models.
2. Audio mixers are hard to use and expensive, but they don't have to be
If you want to create a professional sound then you'll need the technical knowledge to mix your audio, but that's easier said than done. If you're a podcasting beginner you might be scared off by having to mix the EQ, gain, pan, reverb, compressor, and more on your sound, not to mention using the numerous knobs on a traditional mixer. On top of that, a typical mixer can set you back hundreds of dollars, and they're not portable devices.
Most audio mixers are often expensive, hard to use, and large devices.
The benefit of a device such as the MicLIVE is that its Smart-EQ AI helps to improve your recording experience. With the press of a button you just need to wait for the AI-optimized function to briefly listen to your recording before it kicks in and begins enhancing microphone audio quality with its enhanced acoustic models.
The ATEN MicLIVE AI Audio Mixer (UC8000) has various features that address common problems facing podcasters today.
Plus, the device comes in far below the price that a lot of other mixers do and its compact size and light weight means you can take it on the go. Traditional mixers are often much larger and heavier and are not a portable option like the MicLIVE is.
The MicLIVE's relatively small form factor makes it a portable option that you can take with you anywhere.
3. Post-production takes up too much time and effort
Even if you streamline your podcast recording, there's still post-production to deal with. Editing a podcast gets complicated if you want to loopback audio from multiple sources and combine them into one recording. Plus, you might want a ducking function to make sure music added to your podcast goes up and down in volume depending on if anyone's speaking or not. There's also voice and sound effects that you might want to include.
MicLIVE's features various functions to make pro-level podcasts easier to make.
Having a device that can help to handle much of this workload for you by offering it in real time during a podcast would cut down your post-production time. The MicLIVE ticks off all these boxes and more. For example, it allows for plugging in of two XLR microphones, including dynamic mics with its built-in 48V phantom power. It also accepts USB audio, so you can take a call in from a smartphone, or play a recording from your mobile device.
Take guest calls and input their audio directly into your podcast by connecting a smartphone to MicLIVE via USB.
What's more, the device has built-in jingle pads with pre-installed sound effects on which you can also record your own sound effects or voice recordings. This saves you the trouble of having to add sound effects later in post as you can play them during podcast recording. Both you and your guests will hear these sound effects in real time too, making it easier for you and others to react to them.
The device's voice effects modes work the same: you can use them directly through the device to give you or your guests different voices for comedic or dramatic effect.
An auto ducking function also cuts down on editing time; the way the MicLIVE's works is by detecting if someone is speaking. If so, the function kicks in and your background music goes down automatically. If no one is speaking, it goes back up; all of this with no post-production necessary.
Let AI audio mixing do the heavy lifting for your podcasts



As we've just learned, creating great podcasts can be a lot of work, from mixing the EQ to making sure you can record from various inputs, deal with unwanted noises, and then spend lots of time in post-production. A device such as the MicLIVE cuts down on almost all of these issues thanks to its innovative functions, ease of use, and even its portability. With AI optimization your podcasts can sound better in a flash, and you won't break the bank to create professional podcasts recording.